Contact London Mac Repairs

Our contact form is below should you wish to make an appointment or forward your enquiry to our team of dedicated Mac technicians. Your message will be immediately delivered and we'll respond asap.
Alternatively, please call 08445855966, leaving a voicemail, if we're unable to answer
Contact LMR: We're waiting to hear from you…
London Mac Repairs offer more than 30 years of experience in Mac repairs & Apple support. Our dedicated team of Apple technicians can help you whenever you encounter a problem with your Apple Mac. You can read our terms & conditions here or view our privacy policy.
Contact London Mac Repairs, the go-to destination for Apple repairs & Mac support.
With over 30 years of experience in the industry, our dedicated team of Apple technicians is committed to providing a high-grade Mac support service for all your Apple needs.
Our Services:
Apple Repairs:
We understand the frustration of encountering issues with your beloved Apple Mac. Whether it's a hardware malfunction or software glitch, our skilled technicians can efficiently diagnose and fix a wide range of Mac problems.
Mac Support:
Our team of Apple specialists is always ready to assist you with any technical queries or concerns. From software troubleshooting to setting up your Mac, we provide a personal touch to Mac support to ensure you have a smooth experience.
Mac Data Recovery:
Accidentally deleted important files or lost data due to a hard drive failure? Our Mac data recovery service can help retrieve valuable data and memories from your Mac.
Mac Upgrades:
If your Mac is showing signs of sluggish performance or lacks storage capacity, we can enhance its capabilities with expert upgrades. From installing a faster SSD to upgrading RAM, we can tailor your Mac to suit your specific needs.
Screen Replacement:
As independent Apple service providers, we ensure the best quality repairs for your devices. Additionally, we specialise in accidental damage repairs for laptops including MacBook Pro & MacBook Air.
Terms & Conditions and Privacy Policy:
At London Mac Repairs, we value transparency and strive to provide our customers with all the necessary information.
You can find our comprehensive terms & conditions on our website, outlining the guidelines for our repair services and customer interactions.
We also prioritise your privacy and data protection. Our privacy policy outlines how we collect, use, and safeguard your personal information, ensuring your peace of mind when entrusting your Mac to us.
Why Choose Us?
Experience:
With over three decades of experience in the industry, our technicians possess the expertise to handle Mac repairs and Apple support with utmost professionalism.
High Quality Mac Repairs:
We use genuine Apple parts and advanced diagnostic tools to ensure that your Mac receives the highest standard of repair.
Timely Service:
We understand the importance of keeping your Mac up and running quickly. Our efficient repair process ensures a swift turnaround time for your device.
Customer-Centric Approach:
Our dedicated team is committed to providing friendly and personalised support, tailored to your specific needs and requirements.
At London Mac Repairs, we are passionate about Apple technology and take pride in delivering exceptional services to our valued customers. Whether you're a professional, a student, or a creative enthusiast, we're here to support your Apple journey.
Contact us today for reliable Mac repairs & expert Apple support.
We cover all areas in the capital from our workshop located in North London near Finsbury Park, Highgate & Turnpike Lane Underground Stations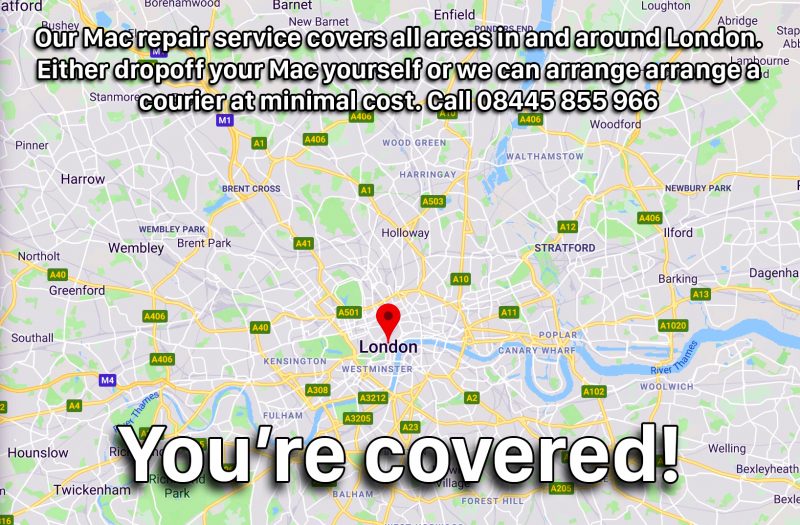 You can check your warranty or non-warranty support options by entering your details here